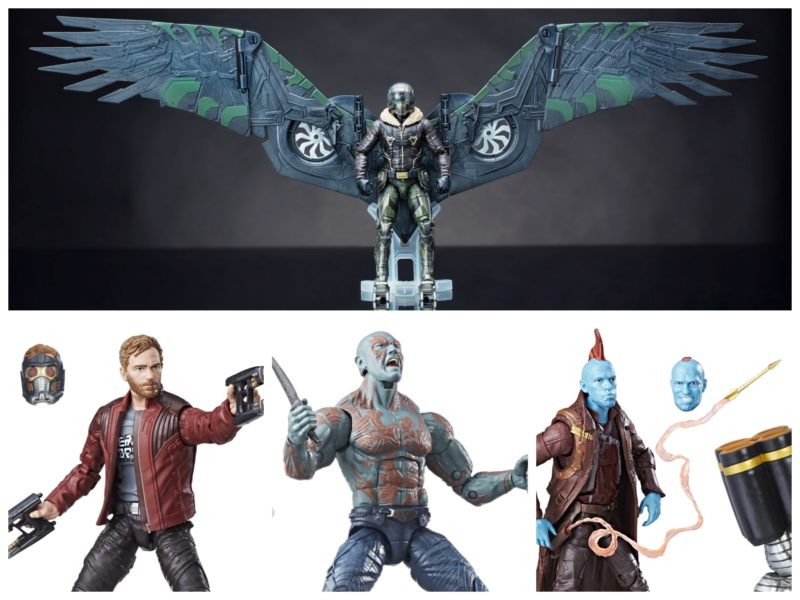 Hasbro has shared its official press images for the Marvel Legends reveals from earlier this morning. Following the release of the Spider-Man: Homecoming trailer last night, CBR had the honors of revealing the first look at the Michael Keaton Vulture Marvel Legends figure.
And while Hasbro shared the first reveals from the next wave of Marvel Legends Guardians of the Galaxy at San Diego Comic-Con, the Nerdist got to reveal that new figures for Star-Lord, Drax, and Yondu would round out the Marvel Legends Guardians of the Galaxy wave.
The Spider-Man: Homecoming Vulture is the first reveal from a completely new wave of Spider-Man Legends figures. CBR calls the "Vultue Flight Gear" the Build-a-Figure component of the wave, suggesting that the Vulture will ship as an individually carded figure, while parts of his wings will come packed in with him and the rest of the figures in the wave.
Vulture will reportedly not come with a separate Keaton head sculpt, so the helmeted look is what you'll be getting. And the wings will feature 12 points of articulation on their own. Impressive!
With Homecoming's July opening date, conventional wisdom has the street date for this new wave at the end of 1Q / start of 2Q 2017. This potentially leaves room for the Marvel Legends Spider-Man wave revealed at San Diego Comic-Con with the Sandman Build-a-Figure to keep its street date at the front end of 2017.
Hasbro first revealed the initial figures in the GotG Vol. 2 wave at San Diego Comic-con – Titus (the BAF), Darkhawk, Angela, Nova, and Vance Astro. At that time, they also shared that tighter collaboration with Marvel Studios would allow them to include movie figures in the first wave.
Of the new reveals, Drax looks to be a reissue of his original movie figure, with a new enraged head sculpt and new paint deco for his pants. Star-Lord and Yondu, both featuring alternate head sculpts, look like newly sculpted figures.
The packaging shots reveal that Darkhawk, Angela, and Vance Astro will get the Guardians of the Galaxy branding that the movie wave got for their initial release, while Nova gets his own branding. The three movie figures get the "Vol. 2" designation.
The inclusion of Star-Lord, Yondu, and Drax as the final figures in the wave leaves us with a couple of questions. At New York Comic Con, Hasbro revealed Marvel Legends figures for Adam Warlock and Death's Head II. As yet, they've not shared any further details for a wave for those figures – could that mean a second Guardians wave is due later in 2017? And if so, are we going to get a must-have movie Baby Groot pack-in?
With the May opening of Guardians of the Galaxy Vol. 2, we should expect to see this wave hit shelves in the first part of 1Q 2017.