Hasbro held their annual Toy Fair Nerd Herd (officially the "Fan Media Day") and it was packed – both with awesome new Marvel Legends reveals, and with people trying to get pictures of said Legends. It's a big Marvel movie year for Marvel Studios and 21st Century Fox, and I was expecting the brand to line up with the movies those two studios are putting out.
Marvel Studios – Captain Marvel (figures already on shelves), Avengers: Endgame, and Spider-Man: Far From Home
Fox – Dark Phoenix and The New Mutants
While Hasbro did come out in full force in alignment with the movies, they still managed to mix in some surprises. Read on!
Marvel Legends Ultimate Riders
Hasbro revealed that a third Ultimate Riders figure and vehicle combo would ship in the second half of the year – the Ultimates World War 2 Captain America and his motorcycle. Cap joins Deadpool and Professor X as the riders for 2019. This is promising news for this line extension; retailers are along for a repeat of the three SKU ride they got last year, with Black Widow, Ghost Rider, and Wolverine.
And there's good news for Prof X fans who found themselves out of luck when the pre-orders sold out. Hasbro will be making solid cases of the X-Men's founder available to retailers to fill all that demand.
Avengers Legends Wave 1
Avengers: Endgame opens April 26, so normally I would expect the first of two Avengers waves to ship before then. That would mean we'd see online pre-orders already. So far, no solicitations. But this could just be due to blackout dates for movie reveals.
The figures revealed thus far are Citizen V, Hercules, Living Laser, Nighthawk, and Ebony Maw (from Avengers: Infinity War). I will have to check to see how many more figures, most likely featuring Endgame movie designs, will complete the wave. I'll also check if one of the reveals thus far is the Build-a-Figure.
Spider-Man Legends Wave 2
Like Captain Marvel, wave 1 of Spidey shipped right at the start of the year, making Hasbro's reveals today wave 2. Spider-Man: Far From Home is due in theaters July 5th, so we should also be seeing pre-orders imminently for a shelf date in 2nd quarter.
The reveals include two movie Spideys (his upgraded suit and the stealth suit), the Julia Carpenter Spider-Woman, Doppleganger, Hydroman, and Scorpion. For those of you that have been asking, Scorpion will feature a wire-supported bendable tail. There is one more figure to be revealed. Presumably, it's the movie Mysterio. Also to be revealed, the BAF.
Avengers Legends Wave 2
Like wave 1, the second wave will feature both comic book and movie designs. So far it's all comic book-based, with one notable exception. Loki, Beta Ray Bill, and Union Jack (all previously revealed) are from the comics. This event's new reveal for wave 2, the Serpent Society's Rock Python, is also from the comics.
Black Panther's Shuri (finally!) is the only MCU reveal thus far for the wave. But we expect Endgame figure(s) to be revealed when the marketing blackout is lifted.
X-Men Legends – Caliban BAF
With Dark Phoenix opening June 7 and New Mutants on August 2, I expected one mutant wave in 2Q and another in the Fall. The X:Men Caliban wave had been previously revealed, and pre-orders have already started going up:
Entertainment Earth – https://afpics.link/2V0fEw9
BigBadToyStore – https://afpics.link/2N9naCg
The wave consists of Gambit, Beast, Jubilee, Blink, Forge, Weapon X, and the Reaver Skullbuster. I'm not expecting any reveals from the Fox movies until the Disney acquisition of Fox to be concluded. That's expected around the middle of the year.
Amazon has the figures up for pre-order individually:
X-Force Legends Wave – Wendigo (?) BAF
Hasbro previously revealed Guardian and Wendigo. The latter was not on display today, but is presumably the BAF for the wave. Others revealed today include Boom Boom, Cannonball, Mister Sinister, and Nightcrawler. At least one more figure is still to be revealed at a later date.
X-Men Vintage
I was only a little surprised to see the Marvel Vintage line make the transition to X-Men, resurrecting the popular '90s line's branding like a Phoenix. I had asked Ryan and Dwight about it last time we talked, and while they wouldn't spoil the reveal, they did a fair amount of winking and nudging.
The four figure wave includes the blue and white X-Factor Cyclops, Outback Dazzler, the "Patch" Wolverine, and Silver Samurai. The Silver Samurai is among my favorite reveals of this event. As this line continues, Hasbro reminds us that while they're inspired by the vintage lines, they plan to include characters that were not in the original lines.
Retailer Exclusives
In a sign of strong demand, Hasbro's exclusives program with retailers continues this year.

Walgreens
We look to be alternating between Walgreens' X-Men and Fantastic Four themes. Hasbro showed off Mystique, the Infamous Iron Man (Dr. Doom), and the Marvel Now! Emma Frost, in her black costume.
Walmart

Joining the previously revealed Captain Marvel in Binary form is an Avengers: Infinity War 2-pack featuring Loki and Corvus Glaive.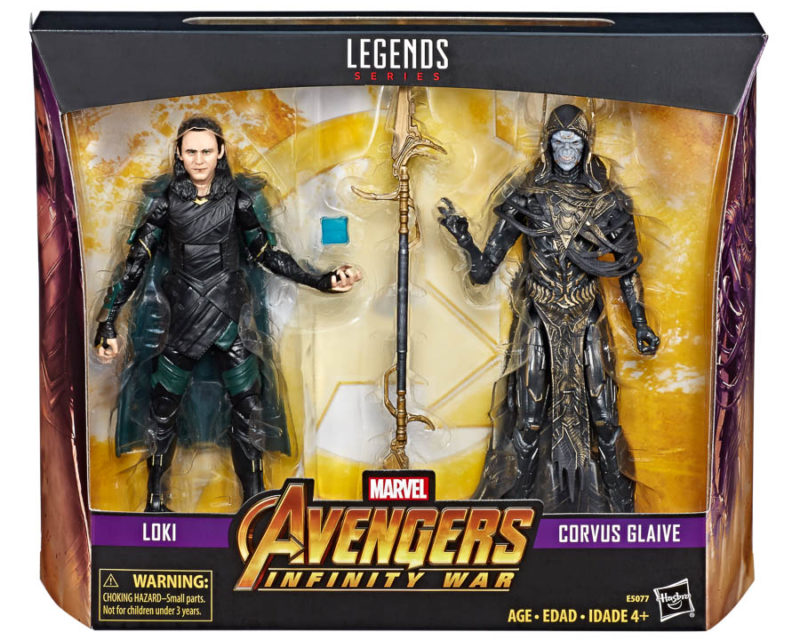 Target

Joining the previously revealed Captain Marvel (StarForce) are two Spidey 2-packs. The first is the Spider-Man and Kraven 2-pack we saw at New York Comic Con last year. The second is a newly revealed Homecoming 2-pack with Spidey in his school blazer and MJ, with a stunning Zendaya head sculpt.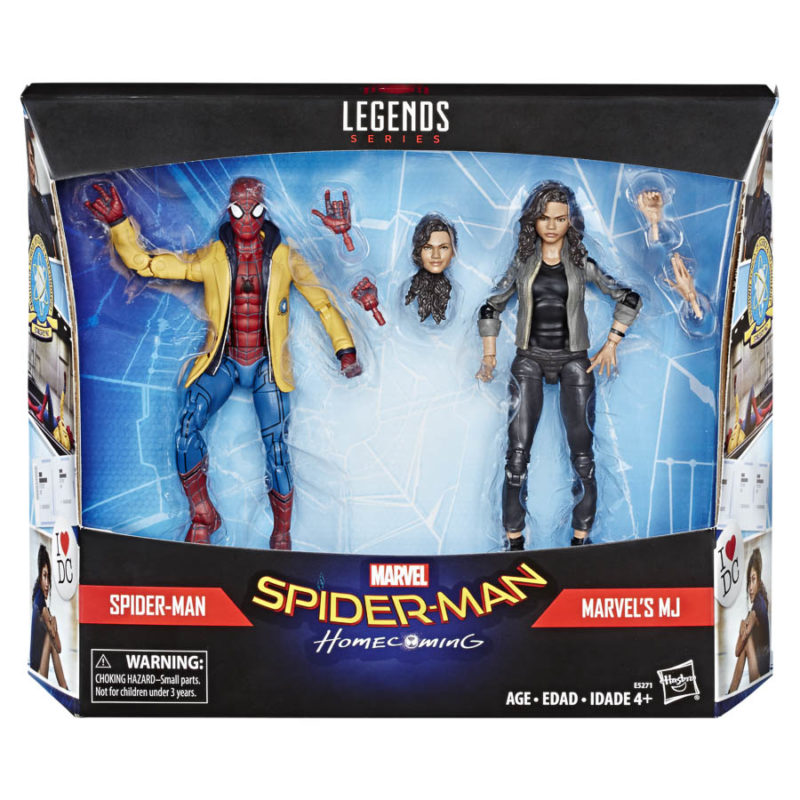 The Spidey and MJ 2-pack is up for pre-order – https://afpics.link/2X7qAdh
Amazon
The "Family Matters" 3-pack, featuring Magneto, Quicksilver, and Scarlet Witch is up for pre-order – https://amzn.to/2GuBTY8
Fan channel
The "Fan Channel" gets the "Hail Hydra" 2-pack with Arnim Zola and the Hydra Captain America. Pre-order here:
Marvel 80th Anniversary Legends

In 2019, Marvel is celebrating 80 years in business. And, Hasbro is bringing Legends to market in support of that milestone. They will highlight iconic looks for the characters from comic book and MCU history. These figures are due out this fall.
From the comics:
Hulk and 1st Appearance Wolverine 2-pack (as featured in Hulk #181) – Gamestop and Entertainment Earth exclusive
Colossus and Juggernaut 2-pack
Captain America – Walmart exclusive
Iron Man
Thor
Hasbro is using the comic book slots to fill gaps in the classic roster, like Thor and Colossus, and improve on figures they've delivered before. For example, Hulk has a great new sculpt and new shoulder articulation. Juggernaut features multiple improved. Cap has sculpted scales, and Iron Man has a new sculpt with improved size relative to his previous figures.
Two-packs from the Marvel Cinematic Universe:
Captain America: The First Avenger – Cap (Rescue Mission) and Agent Peggy Carter – Amazon exclusive
Thor: Ragnarok – Hela and Executioner
Thor: Ragnarok – Grandmaster and Korg
Avengers: Infinity War – Iron Spider and Iron Man Mark 50 – Target exclusive
Ant-Man and the Wasp – Ghost and Luis
The success of last year's theme, Marvel Cinematic Universe's 10th Anniversary, has supported the continuation of the MCU figures. Like with their comic book counterparts, Hasbro is filling gaps and making improvements.
Tell me you weren't surprised to see Luis from Ant-Man in this line!
That wraps it up for this edition of the Hasbro Marvel Legends Report. If you're feeling overwhelmed with how many Legends are on their way, Hasbro tells me that there's still plenty to reveal for the year. I can't wait!