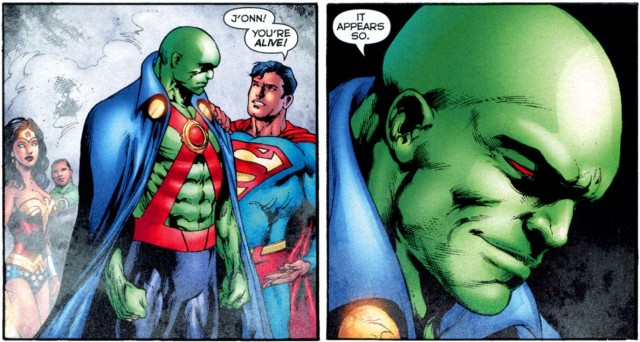 There's been a lot of speculation on who will be included in DC Universe Classics Wave 15. With wave 13 shipping (see Buzzy's awesome DC Universe Classics Wave 13 review) and wave 14 going exclusively to Wal-Mart, it feels like we're due for a reveal soon. Today, AFP reader Bruno emailed me with an interesting tidbit – CmdStore and their retail arm, Toys on Fire, have listed the wave 15 figures individually:
Martian Manhunter – normal head and alien head variants
Starman – modern and vintage variants
Jemm
Omac
Batman (Sinestro Corps)
Golden Pharaoh
Raven (Fan's Choice)
From the listings, I'd guess that Martian Manhunters would be split 70/30 and Starmen 50/50, since there's an assortment that includes both Starman variants and a random Manhunter. I checked the AFP sponsors, Big Bad Toy Store and Enchanted Toy Chest – they have both still not revealed the individual figures in the assortment. But there was an interesting tidbit on the Corner Store Comics listing – that images would be revealed tomorrow, May 15.
As this wave has yet to be officially revealed by Mattel, I'd take this lineup with a boulder-sized grain of salt. If the listing is accurate, perhaps CmdStore was able to reveal it because they're based in Canada. And even so, we're still in the dark as far as the Collect and Connect figure for the wave.  Any guesses?
Big thanks to Bruno for the tip.