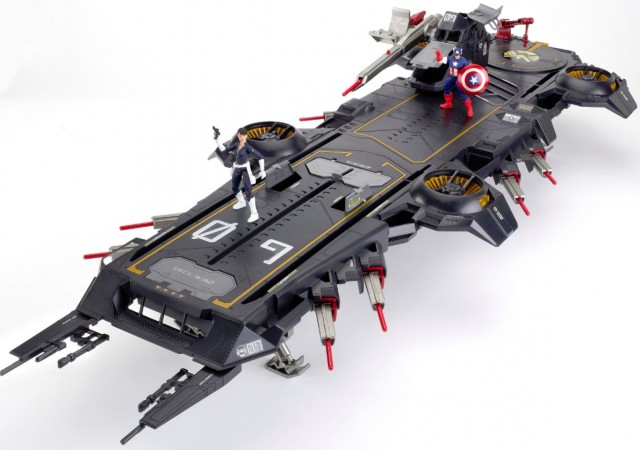 I'm doing a little catch-up, so apologies if this is old news – I'd been wondering what Hasbro would for follow-up to the huge Marvel Universe Galactus and Sentinel exclusives from San Diego Comic-Con the past two years. And they've managed to bring an even bigger item to the show – the SHIELD Heli-Carrier. It will come with two figures – Captain America and SHIELD Agent Maria Hill, and at four massive feet long it will be about a foot longer than the planned retail release – invite another buddy over and have him stick his lunch from Subway on that section where Cap is standing (that's where you'll find the extra foot). If you don't have another friend (or don't like Subway) you could also invade the Heli-Carrier with your Masters of Evil 3-Pack exclusive.
With special SDCC packaging by Joe Quesada, this will be a massive package to cart around, if you choose to pick one up at the Hasbro booth for the price of 26 Subway subs (aka $129.99). I don't know where I'd find room for this monstrosity, and I don't relish the idea of lugging this around the convention floor, so perhaps HasbroToyShop.com will be the better option.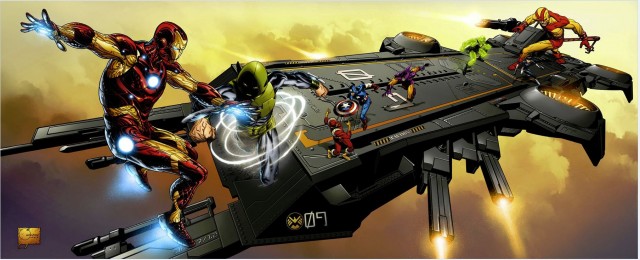 Looking at the cover art, I've got to wonder if the MOE 3-pack was originally slated to be a 4-pack to include Whirlwhind. Remember way back when Dave Vonner hinted that he would reveal a character that would blow us away? Whirlwhind would fit the bill a bit better than the actual Toy Fair reveal – Death's Head. Just add that to the wild speculation file.