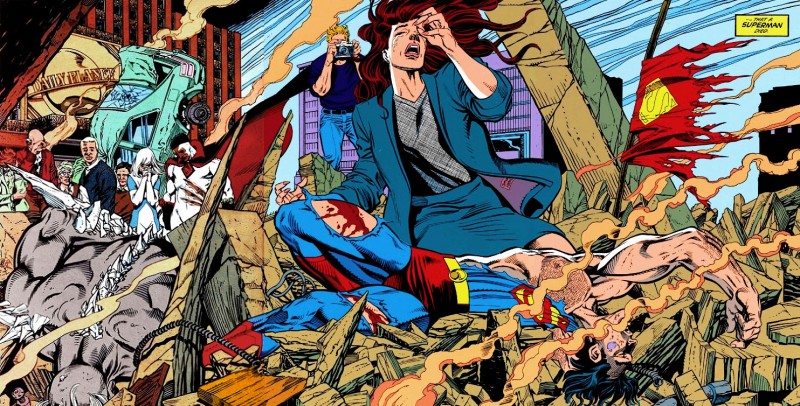 DC fans put up the good fight, and in the end, Doomsday was dead – but so was Club Infinite Earths. With the announcement of refunds coming to subscribers for 2014 , it's official – Club Infinite Earths is dead. But to carry on the Death of Superman analogy, who knows what will spring forth to fill the void? Hopefully it's not four all-in subs! 😉
If there's a takeaway here, I hope Mattel realizes that it's *not* that collectors won't support a DC-based Mattycollector line (as some of the "it's up to you" rhetoric has suggested). With collector-oriented figures taking a break at retail, there isn't another Mattel option – but as we've seen, that doesn't mean that collectors will sign up for whatever Mattel throws out there. All or nothing was at best a short-time prospect. It didn't hit the targets two years ago, and I think with DC Universe Classics dead at retail, there was just enough sentimentality to push it through last year. Now that fans see what all or nothing means, it's over.
Rather, the lesson for Mattel is that they need a different marketing program for DC to make it work for direct-to-consumer sales. With Club Eternia, you're dealing with four broad factions (Masters, PoP, New Adventures, and movie) – that's why all or nothing can work for that line. With the wide diversity of characters and factions in the DC Universe, it was a long shot for them to be able to convert the [insert a faction] fans into fans that would be happy with anything and everything.
Mattel isn't going to give up the DC license any time soon – not with kiddie action figures and Fischer Price doing well at retail. But there *is* a DC collector market out there, so the best thing they can do is keep interest with Mattycollector alive – so when collector figures do return to retail, they'll have a built-in market to kick start it. Remember, when Hasbro relaunched Marvel Legends, they didn't have a frenemy like DC Collectibles eating away at their customers for a couple of years.
Club Infinite Earths customers, look for refunds early next week. Ecto-1 customers, no refunds as cards were only pre-auth, not charged.
via Club Infinite Earths customers, look for refunds… – Mattycollector.com.