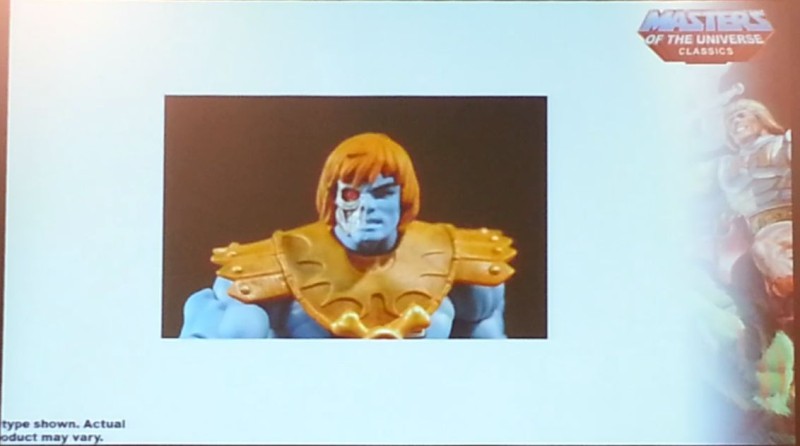 Mattycollector front man Toy Guru, accompanied by Cornboy and Eric Treadaway from the Four Horsemen, updated New York Comic Con attendees with Mattel's collector-oriented plans for 2014. For their healthiest line, Masters of the Universe Classics, it was business as usual, but with Stan Lee's Comikaze in a couple of weeks, the reveals were at a minimum – Flogg from New Adventures and a tease of Robot Faker. On the fan vote for New Adventures 2015, Mara won – no big surprise, as I'm sure many people who did vote but didn't care about New Adventures just went for the female character.
On the DC front, the four revealed figures for the failed 2014 Club Infinite Earths sub will be released as day of figures quarterly, with the jail-suited Doomsday as a SDCC 2014 exclusive. I have a hard time understanding the jail suit over the infinitely better "unleashed" version – I can't believe that the better sales numbers that version would yield didn't justify the increased tooling.
And there's more – check out our video of the panel. We missed a small portion when the recording hit the limit, but that was just Two Bad and Glimmer, and you've seen them before, right?
NYCC 2013 – Mattypalooza

Speakers: Scott "Toy Guru" Neitlich, Eric "Cornboy" Mayse, Eric Treadaway

Description:
It's that time again! Join us for the toy panel to beat all toy panels – Mattypalooza in New York! Celebrating our 3rd year at NYCC, come get the inside scoop on your favorite collectables from Mattel: Masters of the Universe® Classics, DC Comics™ Signature Series, Watchmen™, Ghostbusters™ and more! Plus as a special bonus, attendees will have the opportunity to vote on an upcoming MOTUC monthly figure: Darius vs. Mara – you decide who gets made! The panel will also include an insightful Q & A with Mattel Toy Designers, Mattel Marketing Manager Scott "Toy Guru" Neitlich and special guests The Four Horsemen. It's the place to be for the world premiere of tons of new toys and collectibles! If you go to one Toy Panel at NYCC, make it Mattypalooza in New York!