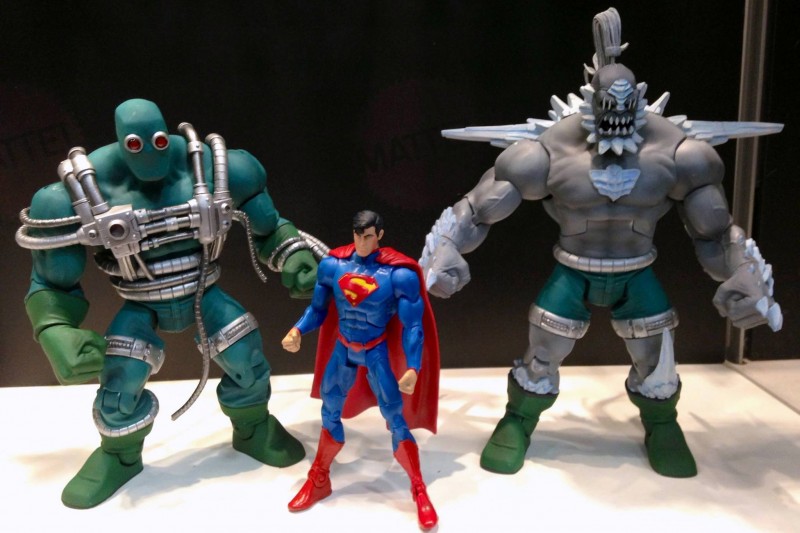 Shortly after Club Infinite Earth failed to meet the minimums to make another year of DC Universe Classics figures on Mattycollector, we Asked Matty if the Doomsday Unleashed figure could be considered as a San Diego Comic-Con exclusive for 2014. Basically, Mattel said no. But after New York Comic Con, we've got another angle – they won't make the "unleashed" version, but they're "far enough along" with the "bound" or jail-suit version to offer him up for SDCC next July.
During the NYCC Mattypalooza panel, when Toy Guru announced the plans for the jail-suit version of Doomsday, he noted that this particular version of Doomsday has never been made into a figure before. Maybe Mattel should have considered the reasons why. I'm betting that the vast majority of collectors would prefer the unleashed version, and that if Mattel proceeds with their current plan for the jail-suit version, it's bound to be a disappointment for fans, and for their SDCC sales.
If collectors are going to have one Doomsday for their shelves, they'll want the Doomsday that killed Superman, not the one that beat up Booster Gold. In the Death of Superman series, Doomsday spends a few issues in the suit, but it's mostly build-up. He tangles with some local wildlife, beats up on the Justice League (and severely trashes Booster), but mostly he's just jumping from place to place looking for Metropolis and Superman. While the intensity increases with each page turn, it does so as more and more of the jail suit gets shredded away – and it reaches its peak when Doomsday is fully unleashed.
We're at the point in the line where you have to ask yourself, if you can only have one, which would it be? Apply it to any toy line and you'd get the same answer – it'd be He-Man over Prince Adam, Hulk over Bruce Banner. And it should be unleashed Doomsday over jail-suit Doomsday.
As much as I love the work that the Four Horsemen and Mattel have done with six-inch DC figures, starting back with DC Super Heroes, they've had a few miss-steps. And for the most part, they've looked for opportunities to fix mistakes. For example, some hard-to-find figures were re-released in 2-packs, like Supergirl. Similarly a paint issue with Harley Quinn was corrected via 2-packs. A glaring size issue with two versions of a shrimpy Sinestro were eventually fixed via re-releases.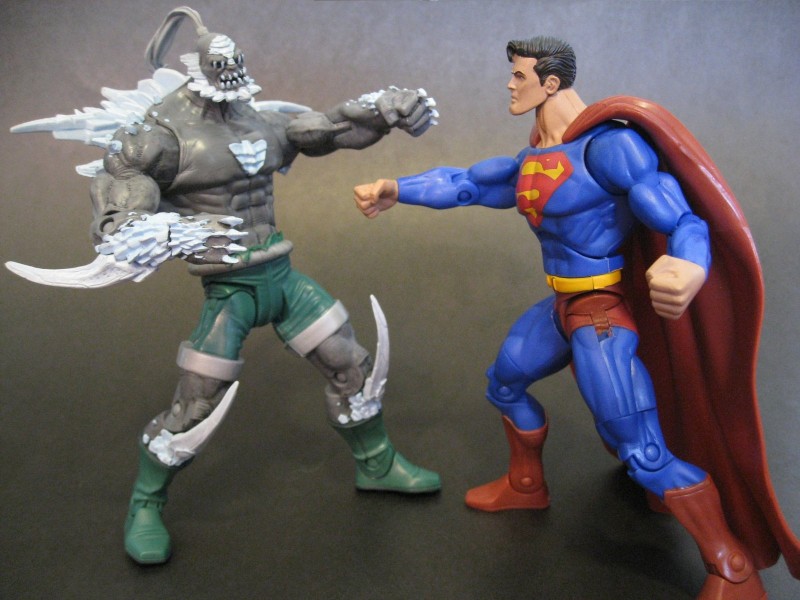 (Photo Credit: Action Toy Review)
The original Doomsday in DC Super Heroes (who never had to be distinguished as "unleashed" because it's the way most everyone wants him) was another big mistake with size. He was barely as big as Superman because of a production issue when shrinking down the two-up sculpt of from the Horsemen.
With their run of six-inchers coming to a close, it would be a colossal shame if they didn't fix their Doomsday mistake for the fans. When the Justice League Unlimited line was coming to a close, Mattel pulled out all the stops to bring out the remaining characters that had been on the show. I can't believe they'd close out Classics with such a half-hearted effort on Doomsday.
To top it all off, you, me, and everyone else knows it in our guts that an unleashed version of Doomsday would sell a hell of a lot more units than the jail-suit version. Because Mattel won't release any numbers, it's hard for us to build a case for it, but I'm convinced that Mattel could justify it financially if they tried. And because I think that most people believe there's a business case for unleashed, I think a common reaction to the jail-suit news is that it's like Mattel punishing the collectors for not supporting the Club Infinite Earths sub.
The worst part of this is that there's still time to fix this, but I doubt Mattel will. Mattel says they plan a year in advance, but when you think about it, it seems like they can get a figure manufactured in about six months. They sold the Club Infinite Earths sub in July, with the first figure to ship in January. If you are wondering why they're actually producing the revealed figures (Aquaman, Ice, Superboy, and Damian Wayne Robin) as quarterly figures, it's because they had started production on at least some of them even in advance of the subscription pre-order failing.
But with Doomsday pushing out from February / March to July, that's another four to five months of production time for the figure. There's still time.
I don't know if Mattel would ever consider it, but if you want Doomsday unleashed, it's pretty much now or never. I've said my piece – make your voice heard for unleashed Doomsday. Leave a comment below.