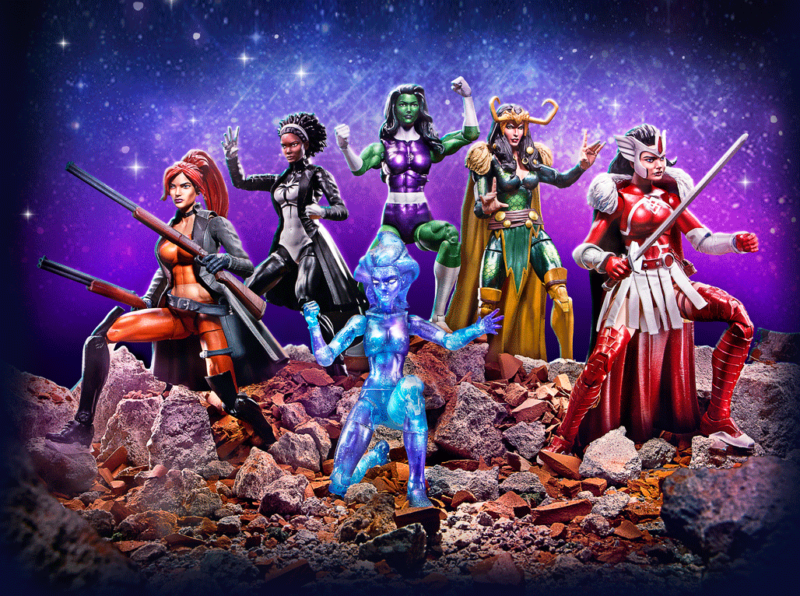 Hasbro held their Collector Preview yesterday (read our Toy Fair 2017: Hasbro Marvel Legends Report to get caught up) and this morning they shared their press pics for a bunch of their Marvel Legends products. They've included a lot of the retailer exclusives that were not available on the showroom floor.
Pictured above – the Toys R Us exclusive Marvel Legends 6-inch A-Force 6-pack, featuring She-Hulk, Lady Loki, Lady Sif, Monica Rambeau, Singularity, and Elsa Bloodstone.
Now get ready for some sensory overload – over 70 more official Hasbro Marvel Legends pics ahead!
Guardians of the Galaxy Vol. 2
Wave 2 of GotG features Gamora, Adam Warlock, Death's Head II, Ex Nihilo, Mantis (the Build-a-Figure), Nebula, Rocket Raccoon with Baby Groot, and Star-Lord.
Kurt Russell's Ego and Star-Lord are featured in this Entertainment Earth exclusive Marvel Legends 2-pack, available to pre-order.
Get ready for a cuteness overload, with a Toys R Us exclusive Legends Evolution of Groot Marvel Legends 3-pack and a Walmart exclusive 10.5-inch Ravager Groot.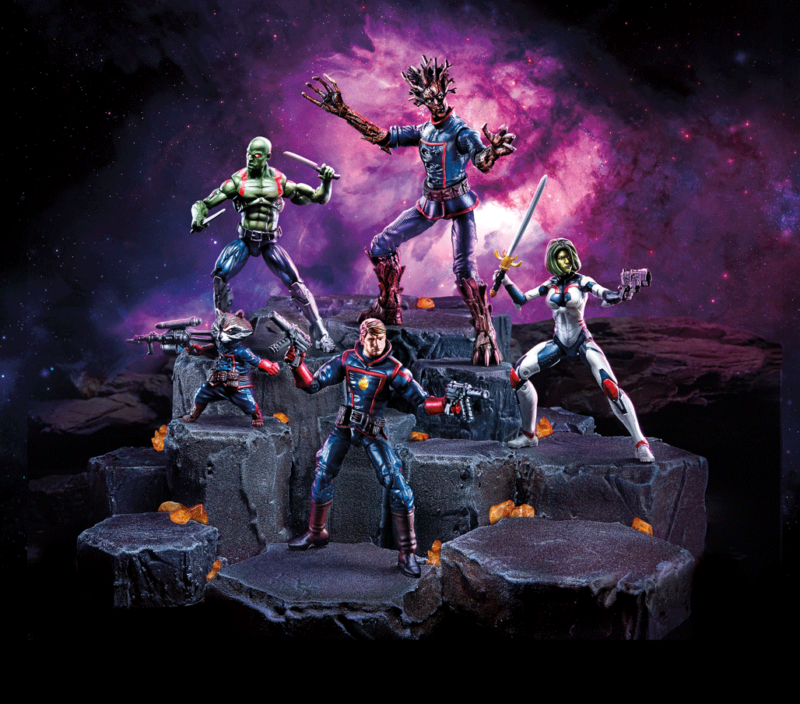 The 3.75-inch line also gets a Guardians exclusive, featuring the core team of Star-Lord (without helmet), Drax, Gamora, Groot, and Rocket Raccoon in their comics-based costumes.
Spider-Man: Homecoming
Wave 2 of Spider-Man features characters made for the first time in 6-inch Legends: Tombstone, Beetle, Cosmic Spidey, and Peter Parker's homemade costume from Spider-Man: Homecoming. Marvel Now! Moon Knight and Homecoming's Vulture and Spider-Man round out the wave, and the Vulture's wings will be the first Build-a-Vehicle in the line.
The 3.75-inch line will also get its fair share of Spidey – figures coming this year include a comics-based Spidey (on a more muscular body), classic Shocker, and Spidey and Vulture from Homecoming.
Amazon's exclusive Sinister Six set is actually a 7-pack of 3.75-inches figures. It includes Spidey and the classic six – Doctor Octopus, Electro, Kraven the Hunter, Mysterio, Sandman, and the Vulture.
Spidey hits the jackpot with Mary Jane Watson in this Toys R Us exclusive 6-inch Marvel Legends 2-pack.
And Wal-Mart will get an exclusive Spidey and Vulture 6-inch Marvel Legends 2-pack, which will come with both classic and Ultimate heads for Vulture.
Netflix Marvel Knights Etc.
Daredevil, Elektra, Jessica Jones, and the Punisher are part of a "Netflix Marvel Knights and More" 6-inch Marvel Legends wave due out in this fall. We'll have to wait to find out the rest of the line-up, but it will also feature non-Netflix characters and include a Build-a-Figure.
Thor and More
The Jane Foster Thor is the first reveal of a 6-inch Legends wave in support of Thor: Ragnarok this fall. And Invisible Woman Susan Storm and her brother the Human Torch Johnny Storm add to the Walgreens exclusive 6-inch Legends. Hasbro suggested that Walgreens will be the place to go for your Fantastic Four Legends fix.
Marvel Legends 12-Inch Continues
Deadpool was the first of the 12-inch Marvel Legends revealed for 2017. He comes loaded with accessories, including a Headpool that can serve as an alternate head.
Hulk and Thor were the other two 12-inch Legends revealed for this year. Both will come with interchangeable heads and hands. The hair and helmet are also interchangeable on Thor's heads, for a total of four different looks. Thor also comes with 2 Mjolnirs – one will be powered up.
Target gets the first exclusive for the 12-inch Marvel Legends line with this Symbiote Spider-Man. It looks like a repaint of the Spider-Man released last year, which has some really awesome articulation.
Deluxe Role Play Continues
What started last year with the Captain America shield and Iron Man helmet (both now at discounted prices), continues in 2017 with a Bluetooth enabled Star-Lord helmet for your favorite mix tape and a voice-activated light-up Mjolnir – ask it if you're "worthy."
Both items are available for $99.99 as a pre-order from Amazon as a New York Toy Fair special:
These are scheduled to ship on August 1 this year.