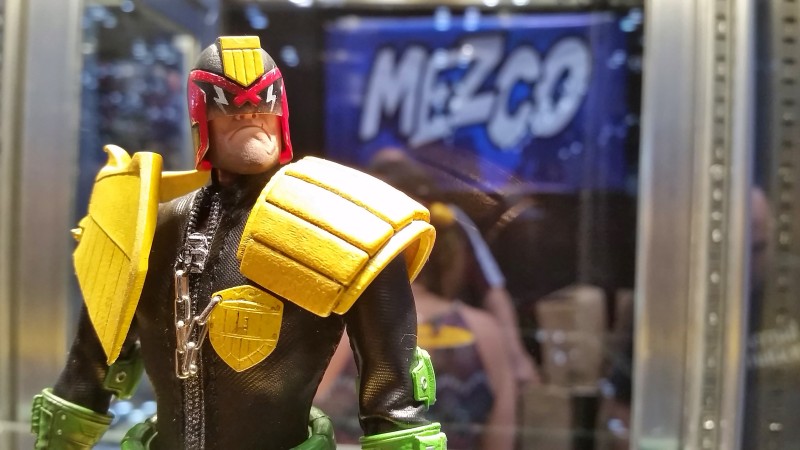 I fell in love with Mezco's take on Batman from the Dark Knight Returns back at SDCC, and they've knocked it out of the park again with Judge Dredd. Dredd is the latest reveal from their One:12 Collective, a multi-license, mixed media, six-inch scale, super-articulated action figure line.
It's an ambitious undertaking right from the start. It's tough to get fabric apps to work well in this scale, and to do it over a super-articulated body is a daunting prospect. Batman was shown in a variety of poses and held up pretty well in this regard. Dredd, on the other hand, has been limited to more vanilla stances – so while I'm certain Mezco will get it right, I'm wondering if they've still got more work to do to get the figure looking right in more action-heavy poses.
Not sold? Consider this – Mez hinted heavily at SDCC that a six-inch scale Lawmaster could be on the way. Regardless, I'm in – just waiting for Mezco to put Dredd up for pre-order. Mezco recently announced that pre-orders on Batman have been brisk with nearly half the pre-order allocation sold in the first day – despite a $65 price tag – so you might want to get on that now or risk a sell-out.
To see more of Dredd, Bats, and more, check out our NYCC 2014: Mezco album.