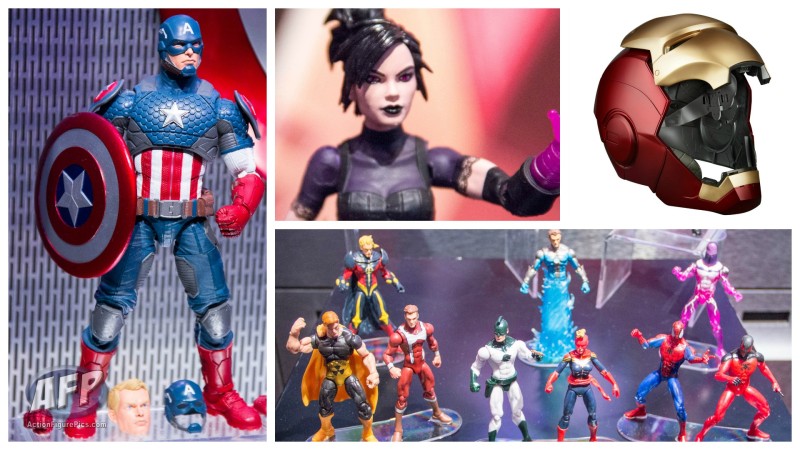 In the past, I'd separate the Hasbro Marvel reports into Marvel Legends and everything else. At this Toy Fair, Hasbro has completed the consolidation of all the collector-oriented Marvel lines into the Marvel Legends brand. And while this will certainly cause confusion for non-collectors who shop for their collector loved ones, it's really a testament to the strength of Legends.
Think back to 2007, when Hasbro first started producing Legends. Back then, it was clear that the star of 6-inch Legends had faded; Hasbro was focusing on their bread and butter 3.75-inch scale. Today, however, it's 6-inch that is propelling the brand forward. Over 8MM units have been shipped since Hasbro first took over the license. Over 200 figures (many more if you count variants) have been produced.
This strength is enabling Hasbro to extend the Marvel Legends brand. The formerly known as Marvel Universe 3.75-inch line was folded in last year. This year will bring about the return of 12-inch figures and the introduction of a premium role-play line. But let's start with the core 6-inch Legends line.
Captain America (6-inch)
Hasbro showed off parts of two upcoming Captain America waves. It's a movie year for Cap, with Civil War looming. Movie figures have been instrumental in broadening the appeal of Legends beyond the core collector base. Hasbro thinks of it in terms of "fans" – the fan base has been growing across the board, including kids, casual fans, and hardcore fans. So the Cap waves will incorporate movie-based figures that may not have been available from a design perspective for the first Cap wave that has shipped earlier this year.
Wave 2 will include: Nuke, Red Guardian, Nick Fury (intended as an army builder with the interchangeable SHIELD agent helmeted head), movie Cap, movie Black Panther, and movie Iron Man. One more figure is still to be revealed, as with the Build-a-Figure.
Wave 3 was teased with a Secret Wars Cap and (finally) a movie Scarlet Witch, the first in 6-inch scale. Will we ever see her brother, Quicksilver, in movie deco? With the MCU moving forward steadily, it becomes more and more of a stretch.
X-Men (6-inch)
There's been a lot of talk across many Marvel licensed product lines (comic books, video games, and toys) about the feud between Marvel and Fox. In the action figure world, that's led to the conspiracy theory that Hasbro was discouraged from making X-Men figures. Back in 2014, Fox had a hit movie in X-Men: Days of Future Past, but the Jubilee wave of Legends was limited to a Toys R Us exclusive.
Hasbro first hinted at the return of the X-Men to a mainstream release with Rogue at New York Comic-Con last year – signalling they would take advantage of the push they'd get from X-Men: Apocalypse. Today they revealed the rest of the individual figures in the wave: Iceman, Cable, Rogue, Kitty Pryde with Lockheed, Deadpool, Jean Grey (one of the last remaining lost figures originally supposed to ship as a running change variant with the Rocket Racoon series in 2013), and Havok.
While the figure packouts are still being determined, one is planned to ship with the alternative Onslaught head to fit the Red Skull Onslaught Build-a-Figure from Cap wave 1 this year. However, the X-Men wave is planned to include a completely separate BaF.
Dr. Strange and Spider-Man (6-inch)
With Dr. Strange being the last Marvel movie released this year, and with Spidey being rebooted in the MCU, their waves are furthest out this year, and the reveals for each wave were shown together.
The reveals from the Dr. Strange wave include Nico Minoru (I believe in Runaways garb) and Iron Fist in his Immortal Iron Fist green / yellow. Iron Fist is on a Spider-Man buck and looks vastly superior to the white / gold Iron Fist that came with the All-Father wave last year on that now-retired body. Inclusion of the alternate bandaged and chi-glowing hands is outstanding.
The reveals from the Spidey wave include Silk, Ultimate Spidey, Miles Morales Spidey, and Hobgoblin. The two Spideys are built on a brand new teen body buck. And Hobby will include a variant head sculpt you can see in the Marvel Legends press pics Hasbro shared earlier.
That wraps it up for 6-inch Legends from Toy Fair. Hasbro did make sure to mention that all the waves planned for this year will include Build-a-Figures. And there's still plenty to be revealed throughout the year. For example, Hasbro has a 6-inch exclusive planned for SDCC, but they would not give any hints whatsoever.
3.75-inch figures
The line formerly known as Marvel Universe continues to chug along. Much time with the brand team was spent talking about the decline in articulation that's vexed many long-time collectors of the line. The bottom line was that the team felt 3.75 needed to hold firm on its price point, so some sacrifices had to be made. (Contrast that with 6-inch – prices have increased and the line continues to improve sales.)
The team will continue to find opportunities to include fully-articulated figures, but we should continue to expect figures with single-jointed elbows and knees and reduced articulation elsewhere as well.
One bright spot – comic book 2-packs are making their return.
Wave 2 of the single carded figures will include: an armored Spider-Man, Gamora, Living Laser, Rage, and Vision. Wave 3 reveals include Hydro man, Morbius, Quasar, and Rogue.
The comic 2-packs will include Captain Marvel and Mar-Vell, a pair of Hyperions from the multiverse, and a Spidey and Scarlet Spider (Kaine) set.
Deluxe figures from Civil War will include Cap with his motorcycle, and Falcon with movie Redwing. Falcon will include new wing articulation which can be posed closed or extended.
12-inch figures
The portion of the presentation showed some Marvel heroes and we were asked to identify what they had in common. The first I saw were Black Goliath and Stature, so my guess was "Dead Legends" (I kid!)
Of course, it heralded the return of 12-inch figures, which Hasbro had continued from Toy Biz's Icons line in the guise of 2-packs with 3.75-inchers. And, as you would suspect the first figures in the line are figuratively big – being Spider-Man, Captain America, and Iron Man (none of which were shown on the aforementioned slide).
The design team was slightly offended by the suggestion that these may be "scaled up" 6-inch sculpts. In fact, the larger scale allows even more sculpted detail to be included. I imagine that Hasbro is still utilizing Gentle Giant for this scale, as evidenced by the pizza-Spidey half-unmasked head.
The team says the figures will have 30 points of articulation. We had a factory-produced Spidey to play with – it seemed on par with 6-inch articulation with the return of the toe hinge. Movement was pretty damn good – couldn't quite get him into the Spidey crouch, but the design team is all over that already. These should hit in fall, and the expected retail price should come in at around $49.99. Ouch, right?
Premium role-play
The final brand extension this year is into premium role-play items, aimed at the cosplayer in all of us. We've all coveted those Captain America shields and Iron Man masks all those kids around us have. Now there are a couple of $99.99 items targeted at us.
The Cap shield has a 2-foot diameter, and will feature straps and a premium glossy top coat. The Iron Man helmet will feature light-up eyes and sound effects, and can be worn with the face plate closed or attached up top, for when you want to reveal that you indeed are Iron Man.
While these items will be generally available this fall, to help gauge the market, Hasbro has worked with Amazon to list pre-orders for both.
Do you have Tony Stark's credit line? Pre-order now to show your support! 😀
We tossed around some ideas for other possibilities – Mjolnir and Hawkeye's bow and quiver were suggested. I think the Hasbro team could get behind Mjolnir, but the engineering around Hawkeye's pop-open bow and rapid fire loader would give them some pause.
That wraps it up for this edition of the Marvel Legends Report from Toy Fair 2016. If you've got some follow-up questions, let me know. There was a lot of info shared, so your questions may jog some additional tidbits from my bad memory, and I can also pass the questions along to the Hasbro Marvel brand team. Excelsior!