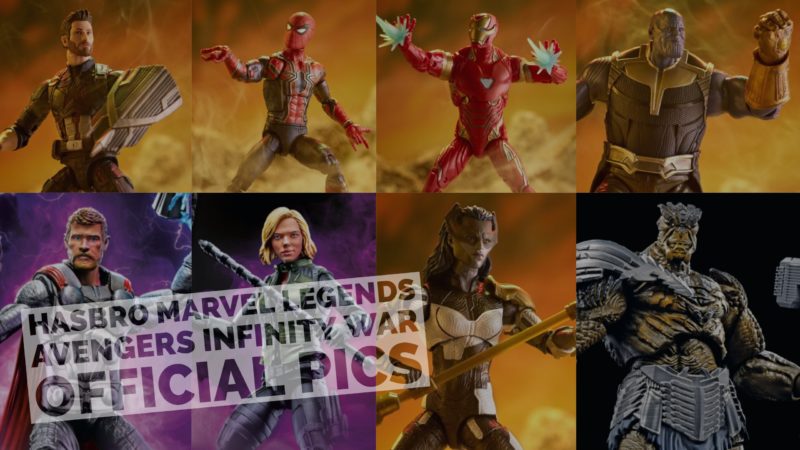 Hasbro has been steadily revealing Marvel Legends Avengers figures for 2018 since SDCC last year. But despite telling us at Toy Fair that they've got two full waves of Avengers Legends on the way, they've kept the Avengers: Infinity War figures under wraps, in order to abide by the strict media embargo dates for the movie.
Finally, the wait is over! Hasbro's shared the first look at the official pics for the Marvel Legends Avengers Infinity War waves with Kotaku.
Marvel Legends Avengers Infinity War wave 1
Captain America (movie) – he's got a beard (no, not Sharon Carter) and a new shield
Iron Man (movie) – we've seen a lot of those repulsor blasts, but this sculpt is brand new
Spider-Man (movie) – (mild spoiler!) it looks like Peter Parker has finally accepted the Iron Spider armor that Tony Stark offered him at the end of Spider-Man: Homecoming
Proxima Midnight (movie) – in the comics, she's a member of the Black Order, a group of aliens Thanos assembles to help him conquer the galaxy
Songbird – revealed at SDCC last year
King Cobra – revealed at HASCon last year
Taskmaster – revealed at NYCC last year
Thanos (movie) – the Build-a-Figure for the wave wields the Infinity Gauntlet and has the unhelmeted look that was much-maligned after its reveal in the teaser trailers
Marvel Legends Avengers Infinity War wave 2
Black Widow (movie) – ScarJo sports a blond 'do and a new tactical vest
Thor (movie) – ♪ Thor can see clearly now, the patch is gone ♫… and is Jarnbjorn making its cinematic debut?
Ant-Man and the Wasp – they are based on their appearances in the Ant-Man sequel and were revealed at Toy Fair
Black Knight – revealed at MCM London
Malekith – he was originally part of the SDCC-exclusive Battle for Ragnarok set but will feature a new deco revealed at Toy Fair
Cull Obsidian (movie) – this member of Thanos' Black Order is supposedly based on Black Dwarf in the comics… I am assuming he's the BAF for the wave
Now that both waves have been fully revealed, how are you liking them?