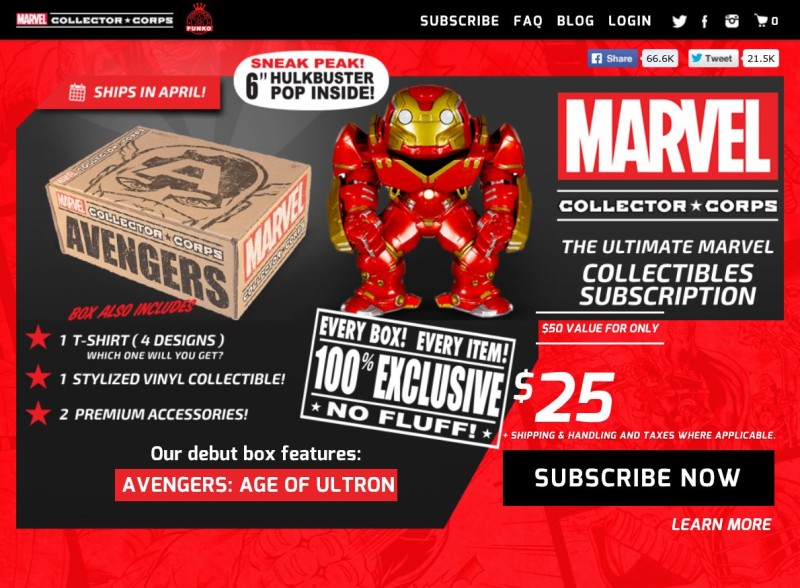 Funko Pop fans – if you're looking for the Age of Ultron Hulkbuster, there's only one way to get it. That's by being a member of Funko's Marvel Collector Corps. The Collector Corps will offer a new goodie box every two months to members. For $25, you'll get a box with $50 worth of Marvel merchandise. The first is due to go out this month, and will include the Funko Pop Age of Ultron Hulkbuster Iron Man, a variant Marvel comic book, and a t-shirt (one of four designs). The next box hasn't been revealed, but it will have an Ant-Man theme.
But that's not all – Marvel is sponsoring weekly giveaways leading up to the release of Avengers: Age of Ultron (pre-order your Avengers: AOU tickets on Fandango). Each week, a lucky winner will get a whole year of the Marvel Collector Corps as their prize. That will include the Age of Ultron box with the Hulkbuster Iron Man, five more Marvel boxes with $50 worth of  goodies in them, and an exclusive Founder's statue. (You can get that too even if you don't win the giveaway, by subscribing in April and going for the full year.)
It's easy to enter the giveaway – just post a fan photo on Twitter or Instagram with the #AvengersUltimateFanSweeps hashtag. You can even use one of the pics of the Hulkbuster included here.
Continue reading "Win the Exclusive Funko Pop Hulkbuster and a Marvel Collector Corps Subscription"