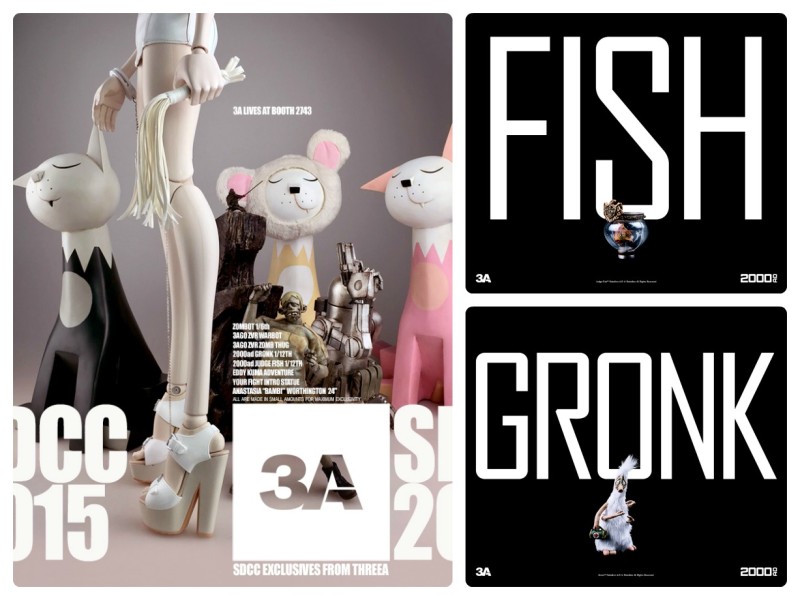 In past San Diego Comic-Cons, 3A Toys has shared booth space with IDW. With the clamor for their exclusives, this has led to some funny situations. At the top of the list was the year the 3A line for exclusives wrapped around the entire IDW booth, effectively blocking out a George R.R. Martin signing for IDW. This was before his fame extended into the mainstream with the HBO Game of Thrones show, so some of the guys in line were asking stuff like, "Who is that Old Man Gimli cosplayer and why is he shaking his Sharpie at us?"
That's changed this year, with IDW helping 3A to secure nearby booth #2743 so they could have their own dedicated space. And 3A has upped their game by planning more exclusives available at the show.
One of the benefits of having his own company is that Ashley Wood gets to make what he likes. It's great fun to see what he comes with, but as his tastes have veered to more eclectic selections like the Isobelle Pascha hyper-sexualized line or forays into new scales like the 3AGO / MEGO tribute 8-inch scale, my own tendency to purchase is down. Another case in point, for the 2000 AD line, now firmly ensconced in 1/12 scale, his choices for exclusives are the Gronk from Strontium Dog, and Judge Fish from Judge Dredd.
Personally, I'd have liked to see some of the bigger hitters from 2000 AD get made, as the line has had many fits and starts. I don't think Gronk and Judge Fish will register with most Con-goers these days. Then again, Wood has never been concerned with mass market appeal for his toys.
Continue reading "SDCC 2015: ThreeA Toys Expands Presence at Comic-Con"