It's almost February, so I figured I better get to my picks (and pics) for Best of 2012! I'll get us started with one of the choices I included in the Fwoosh Best of 2012 post – the Marvel Legends Build-A-Figure Arnim Zola.
2012 was a great year for Marvel Legends, with Hasbro finally getting the flagship line back to retail. And it was an especially great year for Marvel villains. In the three 2012 waves, we got: Terrax, Constrictor, Klaw, Madame Masque, Madame Hydra, Daken, Mystique, Dr. Doom, Thunderball, and Piledriver. You could even throw in the Marvel Select Ultron.

But none stand above Arnim Zola, the Build-A-Figure for wave 2. C'mon! It's Arnim Zola!

The World War II WMD dealer looks like he popped out of a Jack Kirby drawing. He's got the classic orange and purple color scheme, with the tunic and skirt. His legs are ribbed for your pleasure, and he's got the trademark Kirby flare on his crotch flap. And that Zola face? Pure evil.

To top it all off, via the Madames and Wrecking Crew running changes, you can give your classic Zola a modern twist – the BAF pieces that came with Madame Hydra and Piledriver let you build a Red Skull trapped in a Zola construct. That's why Zola is the best of 2012 – quit arguing and just accept it.
You can pick up Zola in one fell swoop with the Marvel Legends 2012 series 2 set of 7 with Arnim Zola or the case of 8 (double up on Bucky Cap, another excellent figure) from AFP sponsor BigBadToyStore. I also like to check Amazon for individual Marvel Legends figures from the Arnim Zola wave, as they sometimes get discounted pretty heavily.
I was really crushed when the end came for SOTA's Street Fighter line, but 2012 brought in a line worthy enough to be its successor. Take a look at the Square Enix Play Arts Kai Street Fighter Ryu.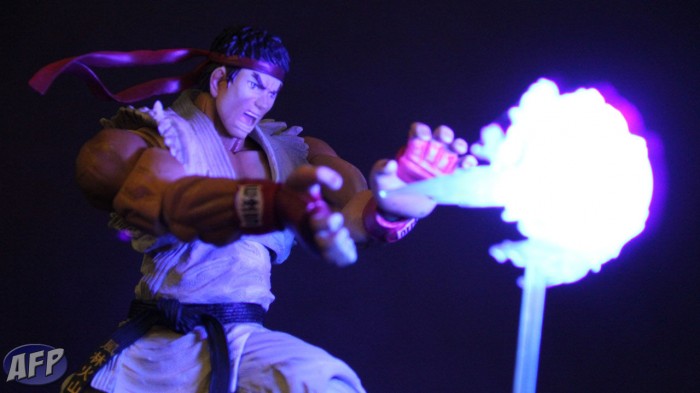 This shot of Ryu is from my how-to article on using laser pointers for lighting, but I would probably feel just as good picking any of the other Street Fighter releases from last year. Chun Li, Cammy, and Akuma all share the same qualities as Ryu – they are accurate to the 3D models in Super Street Fighter IV, with great sculpts and paint. But the best feature of these figures is the great Play Arts Kai articulation scheme. With alternate heads and hands, you can get them into all of their iconic poses. HADOUKEN!
BigBadToyStore has Ryu and Akuma in stock, and you can pick up all of the Play Arts Kai Street Fighter figures on Amazon.
I surprised myself with my second pick included in the Fwoosh Best of 2012 post – the Masters of the Universe Classics 30th Anniversary Draego-Man.
Sure – I get wanting to make good on a decades-old fan contest, but using Fearless Photog as justification for five more fan-inspired figures? Two-Bad's two heads agree, "No, way!"

I hope by now Toy Guru has enough of his own pet projects done so he can stop killin teh lien. He already has his face on an Eternian Palace Guard, and with tag-team partner Geoff Johns, he got his namesake in the Red Lantern Night-Lik. Now in the Masters of the Universe Classics 30 Anniversary series, the two have combined to give us the create-a-character contest rejects, the Mighty Spector and Sir Laser-Lot. Where's the "slap my head" emoticon when you need one?

But then there was Draego-Man. I wanted to hate him, like I hate the self-indulgent wastes of plastic that he accompanied.* But I couldn't.

First of all, he's a bad-ass mother-bleeping dragon. The parts he reuses work well on him, and the newly-sculpted pieces are a testament to Eric Treadaway's love for the line. He comes with great accessories, and there's even better ones for him in the latest weapons pack. His color scheme is awesome, and when I think of putting him next to Granymyr, I get giddy. The best part is that even though he's a fan's creation, everything about him fits in perfectly with Masters. He belongs.

*If MOTUC 30 was your thing, more power to you. I'm pretty sure I'm just jealous because they didn't pick my Big-Hands-Man concept for the line.
Draego-Man is sold out on MattyCollector.com – he was included in the sales in the latter part of the year so I think all of the customer service stock is gone too. In the after-market there are still some vendors selling Draego-Man on Amazon, but with some patience you might find some better deals for Draego-Man on eBay.
In 2012 I fell head first down the slippery slope of 1/6 figures from 3A Toys. One of my acquisitions from last year is a worthy substitute for one of my action figure Holy Grails – the 3A Toys 4th Anniversary World War Robot N.O.M.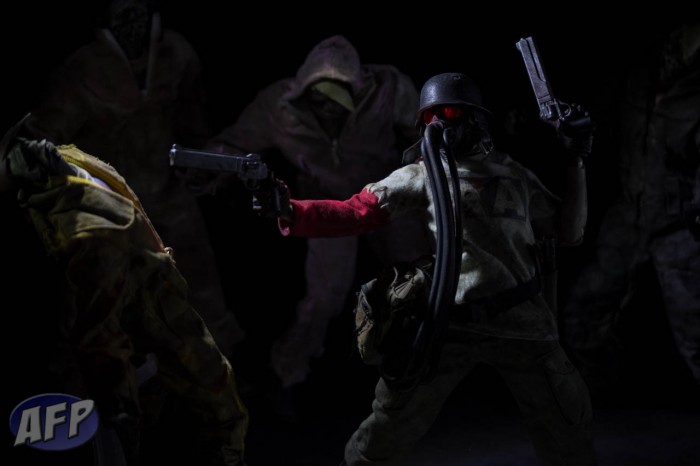 Despite Industrial giving me the heads-up on 3A, it took me a long while to get on board, probably because these things aren't cheap. So I missed out on the original 1/6 Nom de Plume and missed out again on the 1/12 Nom de Plume from the WWRp line. So was damned if I was going to miss out when 3A offered this new Nom as part of their 4th anniversary.
This guy has it all – the trademark Nom helmet and gas mask has been upgraded from one to three hoses – they're very flexible so as not to hinder posing. And the articulation works extremely well – this Nom features new ankles and pleather boots that hide them, so you can get some really stable, wide-stanced poses. All the clothing apps work really well, and he comes with pouches with zippers, straps, and holsters for his two pistols and club. I really can't wait to pose this guy alongside of the inevitable 3A Toys Judge Dredd.
Since all of the 3A Toys releases are pre-ordered, if you missed out on that you can only find them in the after-market. One of your best bets is to search for 4th NOM on eBay.
My final pick for 2012 is really more of a lifetime achievement award. Individually, the DC Universe Classics Club Infinite Earths Platinum, Tin, and Lead are pretty good action figures. But combined with the previous releases of Mercury, Iron, and Gold, the DC Universe Classics Metal Men are great.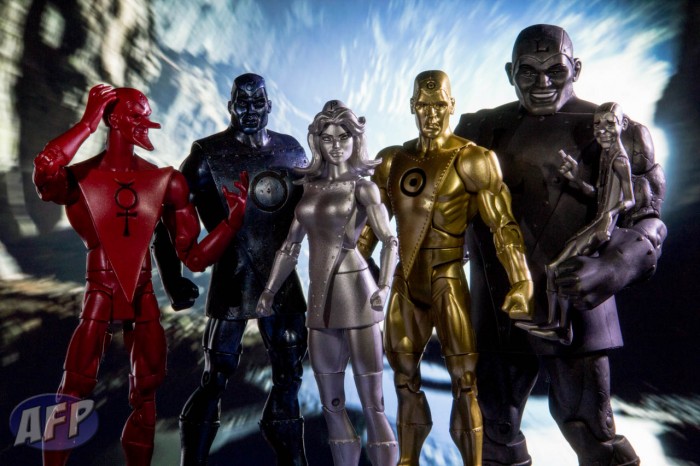 Mattel made good on their promise to use Club Infinite Earths to complete some teams, and they used two slots in 2012 to finish the Metal Men. You could argue that Lead is too big and Tin is too small, but those are pretty inconsequential to me – these guys are shape-shifters, and when you put them all together they really complement each other with their variety in size, shape, and color.
What's that? The Metal Men aren't really complete without Dr. Will Magnus? I suppose you're right, but I think Mattel has probably closed the book on this team.
These are sold out at MattyCollector, but you can pick up Platinum with Tin and Lead at BigBadToyStore. eBay is your best bet for the older Metal Men releases.
So, what are your best of 2012 picks? Share them in the comments below. And be sure to check out AFP's Best of 2012 from Bill, Sandman, and Talyn. Here's to 2013!