It's like a Tale of Two Cities – the Four Horsemen are involved in a couple of product pre-order campaigns running in parallel. On one side, they're the design shop behind Mattel's Mattycollector Club Eternia and Club Infinite Earths subscriptions for Masters of the Universe Classics and DC Universe Classics. On the other, they're taking pre-orders for their own Gothitropolis Ravens line through the crowd-funding platform, Kickstarter.
As we've seen over the past week, folks from Mattel and the Four Horsemen are tearing their hair out over whether the Club Eternia and Club Infinite Earths subscriptions will hit the minimums needed to survive. Meanwhile, the Four Horsemen's Ravens are flying high. Their Kickstarter campaign hit the funding target during its first week, and proceeded to blast through every stretch goal they started with and even a few more they had to put together along the way.
You might think it easy to dismiss the stark differences in the success of the campaigns as coming from collectors' growing dislike of Mattel and their service partner Digital River. And while I see a fair amount of anecdotal evidence for Mattel-hate, I believe there are some clear differences in how they run their campaigns that is causing the Mattycollector subscription fallout. If the Mattycollector subs live to fill in product silhouettes again next year, here's some things Mattel can learn from the Four Horsemen, to make the sign-up period less traumatic and uncertain.
1) Show more of the product.
People want to know what they're buying, and asking them to sign up sight unseen is a major deterrent. Club Eternia is a $501 commitment (before shipping) and Club Infinite Earths is $275. It's not easy to put that kind of money down if you might end up with duds you never would have bought if you had seen them first.
Count me among the fans scratching their heads when Mattel announced the Club Eternia exclusive for 2014 – only to flash a question mark instead of a picture. I do think that the Unnamed One has an interesting and mysterious place in Masters lore, but when you are only revealing one quarter of a full year's figures, maybe it would have been better if you didn't deliberately hold one back.
Of course, tastes vary, but with transparency into what's coming in the sub, collectors would feel better knowing that they won't have major hits against the toy budget coming with figures like the Fighting Foe-Men (no offense to the Four Horsemen staffers who lent their names to the FFM) or Batzarro. These are character choices that have gotten a fair amount of backlash from current subscribers, many of whom feel that the Mattel teams have stuck in personal favorites to the line-ups instead of giving subscribers what they want.
In contrast, the Ravens Kickstarter showed nearly everything that was coming right off the bat. They managed to build excitement by keeping one figure secret as a stretch goal, and revealed it once it was unlocked. For items that weren't completely finished, they showed mockups and then works in progress.
I'm well aware that the Four Horsemen are not as hamstrung by corporate requirements as Mattel is, but since this is one of the biggest blockers for subscribing, the guys running the collector lines ought to be thinking about how to alleviate this. Post potential line-ups. Plaster the site with disclaimers. Something. Anything.
2) Charge more only if you are delivering more value.
Mattel points out that cost of materials and labor has risen, and that's why figures that cost $20 a couple years ago now cost $25. But at the same time they've cut back on what comes in the package, making collectors pay more for less value. Remember when Masters figures came with interchangeable heads and accessories? That's the exception rather than the rule these days. For reference, check out what came with Fisto and what came with Jitsu. And some collectors take offense that accessories that they think should have been bundled with figures show up in accessory packs. On the DC side, a lot of figures are coming with zilch for accessories.
Subscribers are feeling a continued erosion of value for the two clubs.
When you look at the Ravens in comparison, you'll see that they're not cheap. Individually, they're $33 a pop shipped, which puts them in the same range as Masters. Like Masters, they consist mostly of re-used parts. Plus them up with wings, and they're around $50. So why do people regularly complain about price of the Matty figures but not about the Ravens? Maybe the next point has something to do with that.
3) Allow true a la carte ordering.
With the Mattycollector Clubs, it's a fixed menu – all or nothing. With the Ravens, it's build your own meal.
It's just basic economics – when you limit your potential market to only those customers who can and will get everything, you're going to end up with a smaller customer base. And Mattel can continue to eliminate day of sales, intentionally or not, but they won't be able to convert the casual collectors into all-in collectors – at least not while there's the perception of a lack of value there.
The Kickstarter campaign started with individual ravens. It wasn't until all the figures had been unlocked that the Four Horsemen put in an all-in option. And that all-in option has got a nice discount off of what you'd pay if you'd ordered everything in it at the a la carte prices. Taking this approach, they've been able to bump up the average pledge amount per backer – by getting the guys who would have only gotten one or two Ravens and convincing them to get more of them.
Meanwhile, Matty is completely shutting out the guys who may be only buying one or two figures, as well as eliminating any chance to get them to buy more. It just seems like common sense to me that when you get the guys who buy everything *AND* the guys that cherry-pick, you'll sell more than if you just get the former.
4) Fix what's broken and take steps to make sure it doesn't happen again.
There's been a number of Mattycollector products that have come under fire for quality control issues. The most flagrant were the Back to the Future Hoverboard (final product not matching design) and the Ghostbusters Stay Puft Marshmallow Man (figure turning yellow due to materials choice). While those could be considered one-time misses, it's even more troubling to subscribers when mistakes are repeated.
Photos: Poe Ghostal
Masters has had its share of these. The original He-Man came with reversed shoulders, but that's been followed by several more figures that had the same error. Stinkor's forearms were reversed. This begs the question – how many times does it have to happen before you put in a check to catch it before it happens again?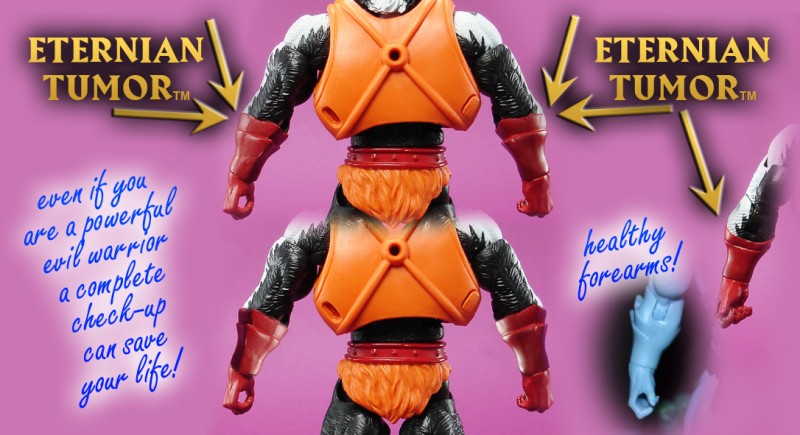 Photo: He-Man.org
It's not like the Four Horsemen haven't had quality issues of their own. The first figures for their Fantastic Exclusive Seventh Kingdom Elephants wave had inferior pegs in their limbs – that caused them to fall off rather easily. While this wasn't considered breakage (they could be reattached just as easily), the Four Horsemen interrupted production to make sure the pegs were corrected. From that point on, none of the figures exhibited this problem. And while they still sold the inferior figures, they marked them as such and sold them at a discount.
5) Find a customer service organization that will treat customers like they were their own.
I've written about the problems I've had with Digital River, and I know many of you have run into similar issues. To summarize what I've heard: they charge exorbitant shipping and handling costs (for international customers, it's untenable), fixing the frequent screw ups takes a lot more work than it should, and the customer service reps don't have the systems they need to really fix things – it seems like they just use the regular Mattycollector site for everything.
I don't want to malign outsourcing in general, because I've been places where it works – but here, it feels like Digital River is taking Mattel for a ride, and we're the ones paying for it.
The Four Horsemen are a small shop. When they sell something, they're the ones shipping it out. They field the problems when they come in, and they fix them. And the difference is pretty dramatic. Back when the Gothitropolis Scarabus figures were being sold, I put in an order – I only got 3 out of the 4 things I ordered. I'd like perfection but know that mistakes happen – but it took me just one email to get it fixed. Every time I get a shipment from Matty (I subbed to Club Eternia, Club Infinite Earths, and Watchmen for this year), I am crossing my fingers that everything is ok. Because every time something's wrong, it's such a hassle to fix it that I wonder why I signed up in the first place.
Now, while this article points out flaws with Mattel and Digital River, don't label me a Mattel-hater. I want them to succeed, and I want the subscriptions to succeed – because I love the Masters and DC products. But when guys like me are wondering whether it's worth it to subscribe for another year, you've got to acknowledge that things could be a lot better. I hope the team at Mattycollector turns this around for next year.
All right – I've had my say. Now it's your turn. What can Mattel do to fix the subscriptions moving forward? Let me know via the comments below.