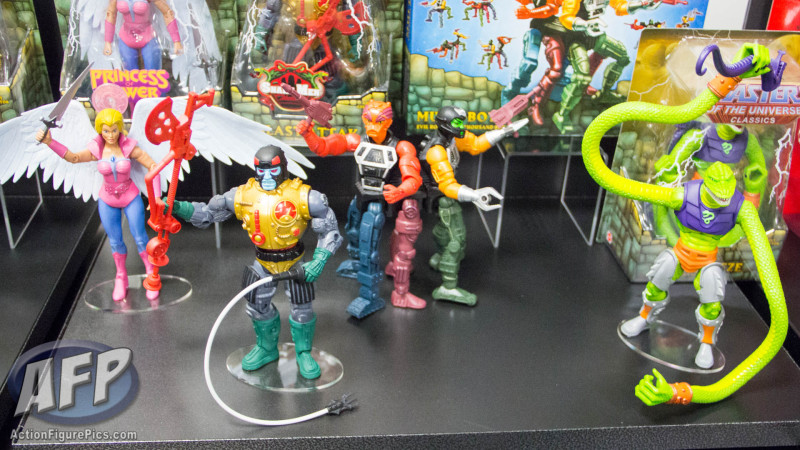 It's a bit difficult for me to get amped up for Masters of the Universe Classics. During the most recent subscription drive, the 2015 Club Eternia was heavily marketed as the last year for Four Horsemen figures – "Hey folks – this toy line has 12 months left to live…"
At the Mattycollector "nerd herd" this morning, at least the new guys brought in to manage the collector lines didn't hit us with that downer. They also didn't say a lot about what's coming in the line. I guess that's what these pictures are for.
Lizard Man, Ninjor, Huntara, the He-Man / Hsss 2-pack, Spirit of Grayskull, and Oolarr are known quantities at this point. Grayskull did sell out quickly during his first availability in Early Access – I wonder how high the demand will stay for him.
I also wonder if folks like me are the reason why this line is on its last legs. Angella, Blast Attak, Multi-Bot, and Sssqueeze are way out there for me. If I was cherrypicking this line based on my knowledge, I'd probably be looking at Sssqueeze as the only one of this group, because, Snake Men are cool! I'm not sure how I feel about those gimmicky arms, though.
Hover Robots are cool – the multi-pack comes with a bunch of stickers that you can use to customize battle damage on them. Peekablue is festive, but I'm not that much of a Princess of Power fan.
Of these three, I'm unfamiliar with Callix from the Horde and Mara of Primus, but Evilseed was featured heavily in the 200X cartoon. I was always confused by the semantics around the "no more 200X" decree – Evilseed appears in his 200X look here, which I think would be the more popular choice.
With this accessory pack, I wonder if the 200X decree was just a way to obfuscate cost cutting measures, because here's a pack of five 200X heads that couldn't be packed in as accessories to single-carded figures but are just fine in a pack that will cost us.
Snout Spout, Buzz-Off, Clawful, Roboto, and Sy-Klone will all get 200X alternate heads if you get this pack. Folks are saying that the Four Horsemen also sculpted a 200X head for Grizzlor, but I suppose that didn't cost out for this pack.
[Update: Mattel revealed through a Mattycollector news item that Callix, Evilseed, and Ceratus would be three of six figures in a new subscription – Club 200X. Additionally, the 200X Heads of Eternia accessory pack would be an add-on exclusive to Club 200X subscribers. Ceratus was not shown at the briefing. And I am guessing unfamiliarity with the MOTUC line was the reason the Mattel brand manager did not announce the new subscription during the event.]
That was it for Masters, unless you also count the vintage jumbo sized figures that were on display. I haven't been able to get myself on board for that ride, so I didn't take any pictures of the two that were out. I'm not sure what else will be revealed, come SDCC – I just hope I recognize more of them.