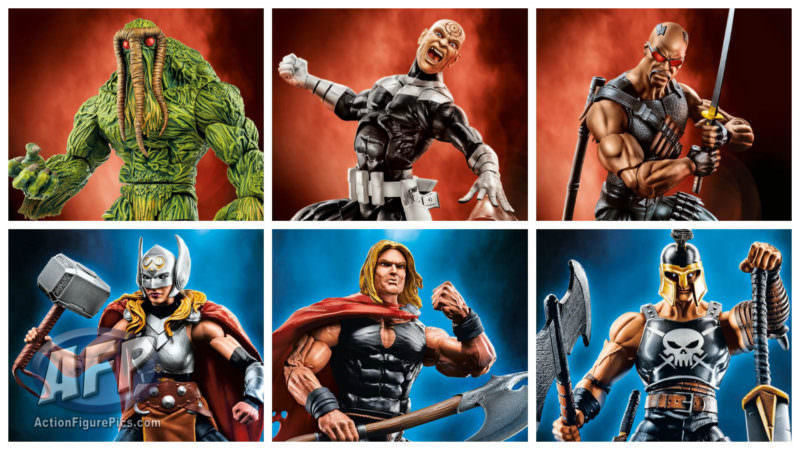 Hasbro is building excitement in the weeks ahead of San Diego Comic-Con, by hosting a special online event today for fan websites. In an exclusive video chat, the Hasbro Marvel Legends team revealed the final two carded figures and the Build-A-Figure for the Marvel Knights / Netflix wave. They also teased three figures from a new Legends wave tied to Thor: Ragnarok.
Marvel Knights (Man-Thing Build-A-Figure)
It's been a long build-up for the Netflix-heavy wave. Hasbro teased the first two figures, Jessica Jones and the Punisher, at last year's SDCC. They followed up with two more, Daredevil and Elektra, at Toy Fair in February. Today, they revealed Blade and Bullseye to round out the carded figures and Man-Thing as the Build-A-Figure for the wave.
Toy guys in the know had been floating Man-Thing as the BAF, but his inclusion in a street-level wave still strikes me as an eclectic choice. While Man-Thing headlined a few solo comic book series in the '70s and early '80s (including the best-named comic ever, Giant-Sized Man-Thing), Marvel has mostly used him in a guest-starring role in other books. Of the characters in this wave, only the Punisher has featured him, during his Franken-Castle arc.
Jeff Parker's run on Thunderbolts features Man-Thing in his most prominent recent role – as team teleporter. Maybe Hasbro started developing the Man-Thing figure in conjunction with the SDCC-exclusive Marvel Legends Thunderbolts box set that they released in 2013.
This will be the second Man-Thing in the Legends line. The first was a single-carded Man-Thing figure in Marvel Legends Series 8 that Toy Biz made during their run, way back in 2005.
That same year, Toy Biz also released Bullseye in the Galactus wave. Fans considered him one of the line's best figures in terms of sculpt and articulation. This release fits right in with Daredevil and Elektra due to their entanglements in the comics, despite his exclusion thus far in the Netflix shows.
Back in 2013, Hasbro dropped their strategy for introducing alternate figures with running changes. The Epic Heroes wave originally had Blade replacing the Punisher. Consequently, Hasbro redesigned and improved him for this wave.
Thor (Build-A-Figure still to be revealed)
With Thor: Ragnarok due in theaters this November, Hasbro is finally capitalizing on the franchise. While Thor had some Wal-Mart exclusive figures, Hasbro did not make Legends waves for the previous two movies.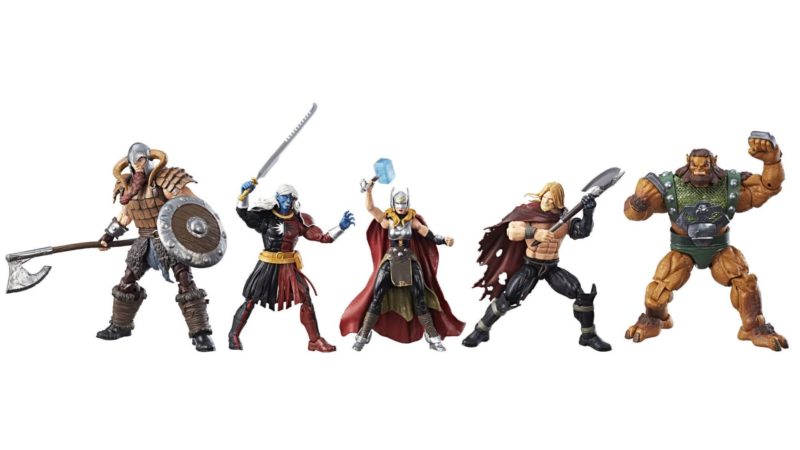 The first three figures revealed rely heavily on re-use. The Jane Foster Thor and Odinson figures feature new paint decos and alternative parts on the two figures included in this year's SDCC-exclusive Marvel Legends Battle for Asgard 5-pack box set. In comparison, the box set's Jane Foster features a darker paint deco and a powered-up Mjolnir. The box set's Odinson features his bearded head and his prosthetic arm made of black uru metal.
Ares appears to be a re-issue of the Build-A-Figure from one of Hasbro's Legends waves from 2008. The figure features a new paint deco, and may have some new parts. I noticed some sculpt changes on his feet. I'm wondering if Ares' helmet will be removable this time around.
This wave will presumably feature a Build-A-Figure. An Ares BAF for this wave would be surprising. Hasbro will likely reveal the BAF and more figures from the wave at San Diego Comic-Con. And for those of you keeping track, we're still waiting to learn the final landing spot for the Thor head, Mjolnir, and Hulk-sized feet that Hasbro teased during their panel at last year's SDCC.
Stay tuned…
As we publish this article, we're also wrapping up the Q&A portion of the video chat with Hasbro. We'll publish an addendum as needed based on any more insights revealed by the Marvel Legends team.