Just like last year, Mattel revealed a few of their San Diego Comic-Con exclusives on Attack of the Show last night. Highlighted were:
Green Lantern Movie Kilowog – $30 – will be first available at SDCC
DC Universe Classics Swamp Thing featuring exoskeletal articulation (rubber skin over an articulated frame) – $30 – like Gleek and the Starro face-huggers, Swampy's Un-Men will be exclusive to SDCC
Voltron 6-inch super-articulated – $30 – will come with both versions of his sword and packaging will feature a sound chip that plays the full Voltron opening theme
Ghostbusters Stay Puft Marshmallow Man with packaging diorama – $70 – this thing looks massive, maybe 18-inches tall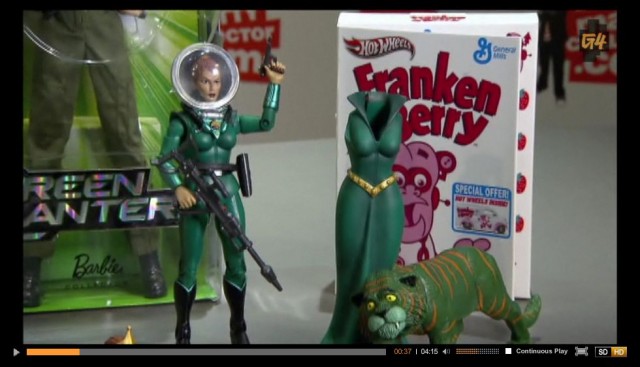 While they didn't highlight any Masters of the Universe Classics items, keen-eyed observers may have spotted what looks like a space-suited Queen Marlena with interchangeable heads and dress, with a Cringer slug figure. Check that out at 37 seconds into the video.
Continue reading "Mattel Reveals San Diego Comic-Con Exclusives – G4TV.com"