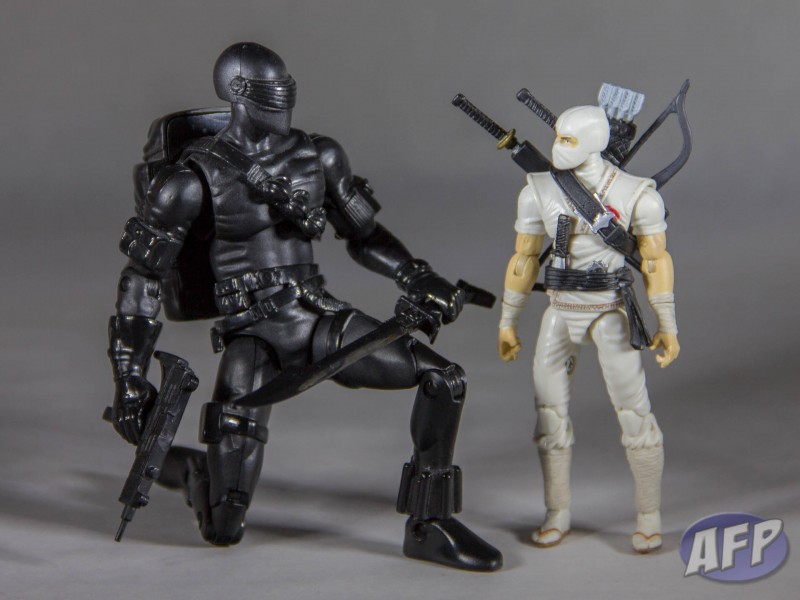 I'm not a good G.I. JOE fan. When I was a kid, I had a lot of the original 3.75-inch Joes from the mid-80s. I watched the cartoon whenever I could, and I'd wage a lot of war against Cobra on the floor of my bedroom. But as an adult collector, I don't buy a lot of G.I. JOEs anymore. And although the Hasbro brand has seen some resurgence after a lackluster first live action movie outing with a better received sequel in G.I. JOE: Retaliation, that hasn't exactly translated into better sales in the toy aisles to kids and their moms either. With the brand losing shelf space at retail, it's looking rather bleak for the toy line for 2014.
A couple years ago, I picked up a bootleg Snake Eyes in the 6-inch scale. I don't know the origin of the toy, but it holds together like something made in a factory. It's got the articulation setup of the 25th Anniversary Joes. And it's got almost everything that I'd want to see in a G.I. JOE toy line for the adult me.
That leads me to my topic today – could Hasbro breathe life into G.I. JOE with a new six-inch action figure line?
» There's more… click to continue reading Soapbox Sunday: Could Hasbro Revitalize the G.I. JOE Brand with a 6-Inch Figure Line?