Wow, is it that time already? The biggest pop culture event of the year is upon us, and I'm just not ready for it.
Thankfully, the rest of the guys have already covered the bulk of my Most Wanted list, so check out their pre-game shows: Buzzy, Sandman, and Talyn. Here's some of the upcoming toy lines from my favorite toy companies that somehow didn't already get mentioned:
DC Universe Mez-Itz (Mezco)
As far as I'm concerned, there's been a hole in the urban vinyl category shaped like a big "DC" – ever since Hasbro took vinyl and brought it to mass market as Mighty Muggs for its Marvel, Star Wars, GI Joe, and Transformers licenses, I've been waiting for DC to follow suit. I thought last year we might get a line from Mattel – they had some protos on display for Masters of the Universe and others that never made it to toy shelves. And DC Direct's Blammoids made it to comic book stores but just aren't my cup of tea.
With DC going with Mez-Itz, I think we've finally got a chance for DC urban vinyl for mass market. Mez-Itz has a very pleasing form factor that's scale compatible with Mighty Muggs. And they've got those ball-jointed necks, that make them a superior offering. I can't wait to pick up the Batman / Joker exclusive, and see what else Mezco has planned.
>> Read more about Mezco's Mez-Itz
Seventh Kingdom, Fantastic Exclusive, and Outer Spacemen (Four Horsemen)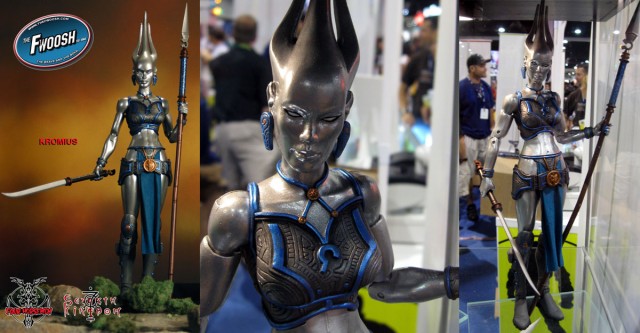 Last year at this time, we got our first good looks at the upcoming Seventh Kingdom exclusives, including Kromius (pictured above), our exclusive figure for the Fwoosh. I'll catch up to the Horsemen to see what they've got planned for the follow-up – we're wondering if Scarabus from Gothitropolis is going to make it to shelves.
That's not to say they've not been busy – on top of their work for Mattel with DC Universe Classics, Masters of the Universe Classics, and Ghostbusters, they've also found time to launch their first licensed line, the Outer Space Men, with exclusives for San Diego Comic-Con, and announce another Fantastic Exclusive property, Symbiotech.
>> Read more about the Four Horsemen's Fantastic Exclusive lines
Marvel Select and Marvel Minimates (Diamond Select Toys)
It's an odd statement, but I wish I had more room to display Minimates – my shelves are dominated by 6-inch and (to my dismay) a growing 12-inch collection, and that doesn't leave much space for smaller figures. But I really do love the form factor and look forward to seeing new Marvel Minimates (and other brands).
DST also has the Marvel Select license, and continues to hit iconic characters with arguably the best representation of those characters. We'll see what they have beyond the upcoming Magneto and Deadpool figures.
>> Read more about Diamond Select Toys
Well, that's it for my "clean-up" edition of the San Diego Comic-Con Most Wanted. Don't forget to enter for your chance to win exclusives from Hasbro's Marvel, GI Joe, and Star Wars brands. We won't get to that until after SDCC is over and done with, so there's still time to enter. Here's where you can do that:
The Hasbro San Diego Comic-Con Exclusive Pre-Show Giveaway Recap
Good luck!