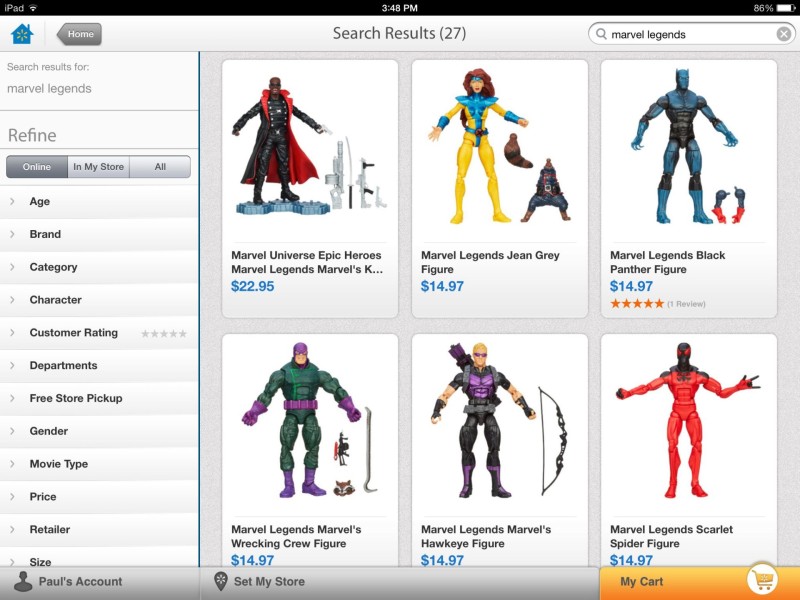 I have been missing out on online opportunities recently. The other day, I missed a chance at the Playmates Teenage Mutant Ninja Turtles Classic Rocksteady and Bebop. And now, I missed a shot at a Marvel Legends Blade at Walmart.com. It's been a while, but you may recall that Hasbro originally planned running change variants for the "bonus" 3rd wave of ML at the end of last year – and one of the variants was a swap-out of Punisher for Blade.
Our good pal Paul sent us the picture above with a brief explanation:
Just wanted to give a heads up that local walmarts are seeing the Rocket Raccoon series here in GA. The figures were available online at walmart.com but are out of stock now. I did find this interesting though, researching the figures online I found the elusive Blade that was a variant to punisher. I instantly thought "it's probably really the punisher with the red skull" but then I noticed the price slightly higher than the rest of the figures plus, my local stores have the punisher with the red skull at the standard retail at $14.97 not $22.95. Maybe it is wishful thinking that I can finally get my hands on this variant but I took the bait and purchased one. Hope all is well and good luck.
Thanks and good luck, Paul! Let us know how it works out!