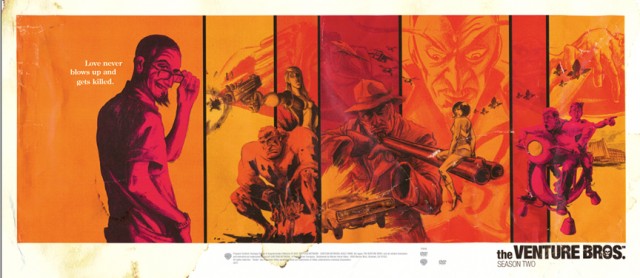 In a broad announcement yesterday, Bif Bang Pow! announced that it will be partnering with EMCE Toys to produce retro-styled action figures across its licenses, including the Venture Bros.  EMCE Toys makes licensed reproductions of the original Mego toys and packaging, and also creates new toys based on the style of toys in the '70s and '80s.  EMCE was cofounded by Paul "Dr. Mego" Clarke, and is also currently working with Mattel on their Retro-Action DC Super Heroes line.
For those keeping track, the first wave of the Venture Bros. line was revealed in an Adult Swim Bump – it will include Dr. Venture, Brock, the Monarch, Hank, and Dean.
I asked Jason Lenzi from Bif Bang Pow! if they plan to produce Venture Bros. figures in other styles, and he said that it will depend on the support the line gets.  The concept as discussed with Venture Bros. creator Jackson Publick at San Diego Comic-Con last year was for figures with a "retro" vibe, as that would fit best with the show.  But they're keeping their options open.  Lenzi says, "we've got the license for a long time, and fully plan on exploring all scales of action figures. Including vehicles! Stay tuned!!"
We should have plenty of pics of the prototypes when we hit up Toy Fair in a couple of weeks.
» There's more… click to continue reading Bif Bang Pow! Venture Bros. Figures will be Mego-Styled